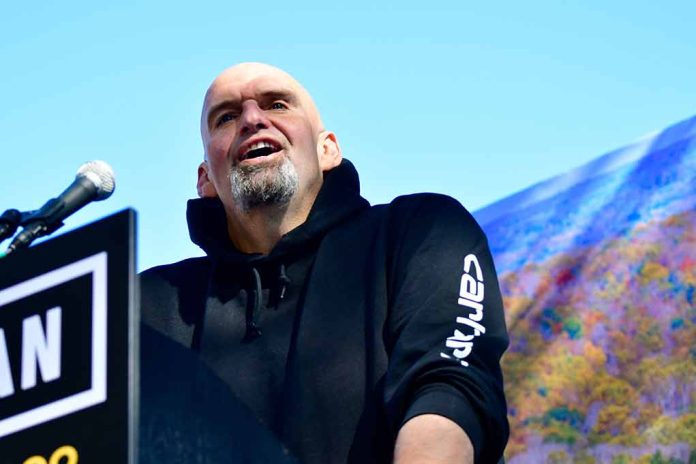 (RightWing.org) – Strange things happen at Halloween. Normally sensible adults dress up in silly costumes and behave in strange ways. We saw a classic example of that recently at a political event.
On October 29, Senator John Fetterman (D-PA) held an event at Shorty's Pins X Pints, a bowling alley and bar in Pittsburgh, Pennsylvania. Of course, because it was a couple of days before Halloween, several people there were in fancy dress. These included the owner of the bar, who was dressed as Fetterman himself — because one man dressed as a giant shambling manchild is never enough, is it?
Some others were taking things more seriously, though. Dan Kovalik, a former professor at the University of Pennsylvania Law School with a track record of hating Israel, wanted to question Fetterman about the ongoing war between Israel and Hamas. The senator has been a staunch supporter of Israel since the October 7 terrorist attack that killed over 1,400 people. Kovalik, holding a keffiyeh — the Arab scarf that's become a Palestinian icon — walked up to him and asked him why he didn't support the ceasefire that's being called for by many leftists and Islamists.
Because Fetterman doesn't exactly have a reputation for being able to give clear answers, one of his staffers moved in and told Kovalik he could answer any questions he had. Kovalik wasn't going to be put off, though, and he insisted that because he'd voted for Fetterman he could talk to him. He added "I'm sorry, this is a democracy," before trying to hand the senator a pro-Hamas flier.
Unfortunately for him, democracy gives us the right to elect politicians; it doesn't give us the right to hand out terrorist propaganda in a privately owned bar. At this point the bar owner lurched into action, grabbed Kovalik and pushed him out the door. As he was propelled into the street by a large bearded man in a "bald head" cap and hoodie, the activist was still protesting that he "asked the senator a question." But neither of the Senator Fettermans wanted to hear it.
Copyright 2023, RightWing.org