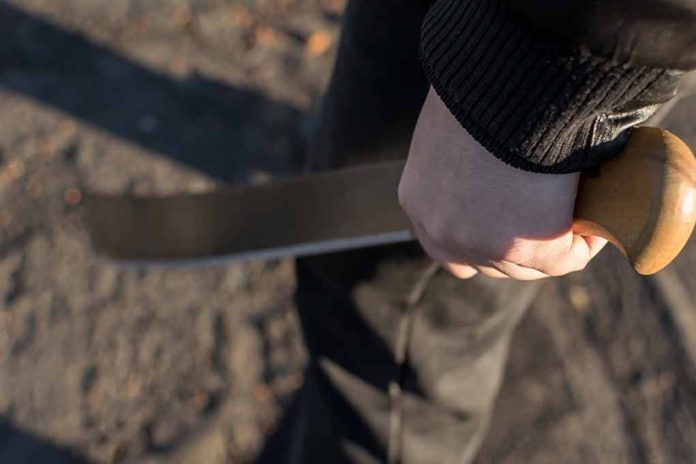 (RightWing.org) – In early May, media outlets erupted after a video went viral on X/Twitter showing a then-adjunct professor at New York's Hunter College School of Visual Arts upending a pro-life display at the school. The short clip showed Shellyne Rodriguez cursing at Students for Life of America members and vandalizing their presentation. School officials reprimanded her after that incident but later fired Rodriguez after she threatened a New York Post reporter with a machete. Now a recent report indicated she landed a new job.
On September 27, Fox News reported that Rodriguez appeared to have gotten a new job at a private school in Manhattan. According to the article, the Cooper Union School of Art lists the machete-wielding artist as an adjunct professor. She is teaching a three-credit class on modern sculpture this semester.
School officials failed to respond to a request for comment. It remains unclear when Cooper Union hired Rodriguez or added her name to the site.
New York Police Department officials arrested Rodriguez after she turned herself in at the 43rd Precinct Headquarters in the Bronx on May 25. They charged her with misdemeanor counts of second-degree menacing and fourth-degree criminal possession of a weapon.
Hunter College terminated Rodriguez later that day. Spokesman Vince Dimiceli issued a statement to media outlets advising the school "strongly" condemned her "unacceptable actions" and relieved her of all duties, "effective immediately." He also confirmed she wouldn't return to teach there in the fall.
On October 2, online art magazine Hyperallergic reported that Rodriguez reached a plea deal with prosecutors. Earlier that day, a Bronx Criminal Court judge accepted the terms of the agreement.
According to Rodriguez's plea bargain, prosecutors will withdraw the misdemeanor menacing and harassing charge once she completes a minimum of half a year of behavioral therapy. Additionally, she cannot break any additional laws. They declined to file the weapons charge at the time of her arraignment.
Copyright 2023, RightWing.org