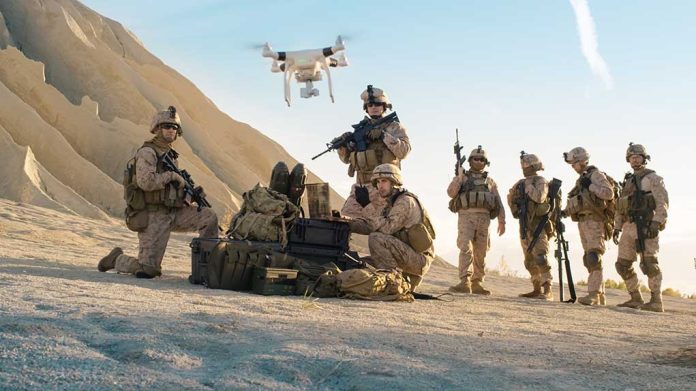 (RightWing.org) – On November 6, Pentagon Press Secretary Brig. Gen. Patrick Ryder told reporters that US forces in Syria and Iraq sustained at least 38 attacks from one-way drones and other aerial weapons systems since October 17. He also confirmed that Iranian proxy groups in Syria and Iraq have launched other "harassing attacks." He said the Pentagon is taking the "necessary actions" to protect US troops. Recent information released by Iraqi sources in the area indicated that American forces thwarted another barrage of drones near a base housing US troops.
Reuters reported that Iraq's counterterrorism service operating in the Kurdish-populated region of northern Iraq issued a statement confirming that three armed, one-way drones were shot down on November 7. The announcement advised that the unmanned aerial vehicles (UAVs) targeted Erbil International Airport, about 43 miles (70 kilometers) from Al-Harir Air Base.
That military installation has housed US and coalition forces since 2018 as part of Operation Inherent Resolve, the operational name of the American-led effort to defeat the Islamic State. The base also hosts several American air units using MH-60M Black Hawk and MH-47G Chinook helicopters; U-28A Draco pressurized, turboprop aircraft; and MQ-1C Gray Eagle medium-altitude, long-endurance drones.
The Iraqi statement said a group calling itself the "Islamic Resistance in Iraq" took credit for the attack. The militant organization also claimed it targeted Al-Harir Air Base. However, the installation's air defense system successfully neutralized the UAVs.
An unnamed US Defense Department official said the base's infrastructure didn't sustain any damage in the attack. Likewise, no casualties were reported in the incident.
Brig. Gen. Ryder noted at his off-camera, on-the-record press briefing that the increase in the prevalence of attacks on US forces in the Middle East has heightened since Hamas invaded Israel. He confirmed that although the war hasn't expanded outside of Israel and Gaza, "Iranian proxy groups" had staged several "harassing attacks" in the region.
Likewise, in mid-October, LeMonde reported that "Iran-allied groups" located in Iraq announced the formation of a "joint operations room" in the region to support Hamas' assault on Israel. Those organizations have threatened to attack US forces there due to America's support of the Israeli war effort.
Copyright 2023, RightWing.org