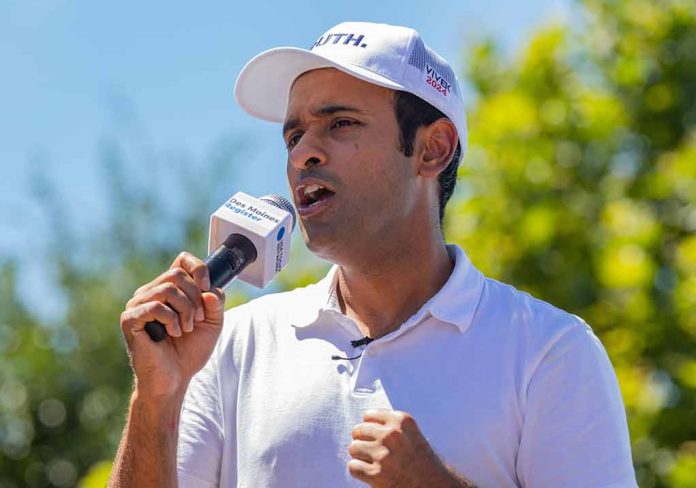 (RightWing.org) – Republican presidential hopeful Vivek Ramaswamy held a campaign event in Iowa in early October, and faced harassment from left-wing protesters. That's common enough for conservative politicians, but this time someone rammed the candidate's car. His campaign says a protester did it; the police don't agree.
On October 5 Ramaswamy appeared at Saints Rest Coffee House in Grinnell, Iowa. While he was there he got into a discussion with some protesters who disagreed with his position on aid to Ukraine. He says most of them were respectful, but two were not. In fact, he says, the pair flipped him off, got into a car, reversed it into his own vehicle then drove off.
In a statement  the Grinnell Police Department said they'd been called to the scene and spoken to the driver of the offending vehicle, 22-year-old local woman Celia Meagher. Meagher told them she wasn't a protester, didn't know whose vehicle she had collided with and hadn't hit it intentionally; she was given a traffic summons for unsafe backing. The department said there was "no evidence" to confirm Ramaswamy's account of the incident.
Ramaswamy is sticking by what he said, though. Posting on X (formerly Twitter) he said that if someone in a MAGA hat had abused a Democrat candidate before getting into a car with "aggressive bumper stickers," blowing the horn and backing into the candidate's vehicle, "I'm sure they'd be just as eager to call it an unrelated accident, right?" He also said he'd had a "civil exchange" with protesters before the incident, and added that while the two in the car should be held accountable their behavior shouldn't reflect on the others who were there.
The $600 damage to Ramaswamy's car might –- or might not –- have been an accident, but there's certainly been an increase in intimidation and violence towards conservatives during the Biden administration. In the build-up to last November's midterm elections Breitbart reported a string of incidents, including threats to skin a candidate alive, a knife-wielding attacker trying to climb on stage during a campaign event and physical assaults on campaign volunteers. It's hardly surprising Ramaswamy saw the Iowa incident as an attack.
Copyright 2023, RightWing.org