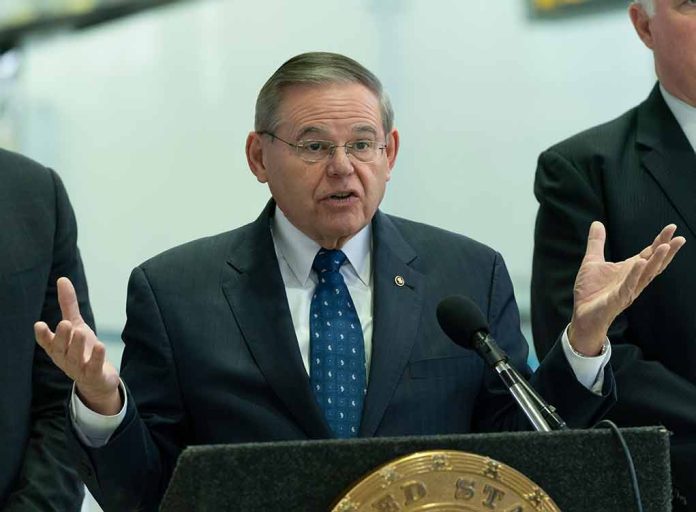 (RightWing.org) – In 2015, New Jersey Democratic Senator Robert (Bob) Menendez was indicted on charges of bribery. Prosecutors alleged that he accepted nearly $1 million in bribes, including "lavish gifts and campaign contributions" from Salomon Melgen in regards to millions of dollars in Medicare disputes and visa applications for Melgen's girlfriends. Eventually, the trial ended in a hung jury and Menendez walked away. This September, he was indicted again, this time along with his wife and three businessmen. He has pleaded not guilty.
The Charges
On September 23, the US Attorney's Office for the Southern District of New York revealed the three charges against Menendez: conspiracy to commit honest services fraud, conspiracy to commit extortion under color of official right, and conspiracy to commit bribery. It's alleged that Menendez and his wife, Nadine Menendez, accepted cash, gold bars, home furnishings, a convertible, and other compensation in exchange for influencing ongoing cases in favor of two businessmen, Jose Uribe and Fred Daibes. He's also accused of using his influence and power to safeguard a business monopoly that Wael Hana, an Egyptian-American businessman, held. If he's convicted on all of the charges, he's facing up to 45 years in prison. He pleaded not guilty to those
On October 12, prosecutors updated the indictment to include a charge of conspiring to act as an agent of a foreign government — Egypt. This stems from meetings Menendez and his wife held between 2018 and 2022 that included Hana and Egyptian officials.
He appeared in court on Monday, October 23, to plead not guilty to the new charge. Afterward, he gave a brief statement in which he said the US "government is engaged in primitive hunting, by which the predator chases its prey until it's exhausted …" adding that the "tactic won't work."
Democrats Call for His Resignation
In 2015, following the initial accusations of bribery, Menendez's Democratic counterparts stood by him. This time around, though, they seem to be singing a different tune. Phil Murphy, New Jersey's Democratic governor, immediately called for the senator to step down. Several lawmakers, including Sens. Cory Booker (D-NY) and John Fetterman (D-PA), have also called for his resignation.
While he has remained adamant that he is innocent and will not give up his role, Menendez did step down as head of the Senate Foreign Relations Committee in September. There's also no indication whether he plans to run for re-election next year.
There is a tentative trial date of May 6, 2024, giving prosecutors and defense attorneys enough time to review the 7.7 million pages of evidence.
Copyright 2023, RightWing.org