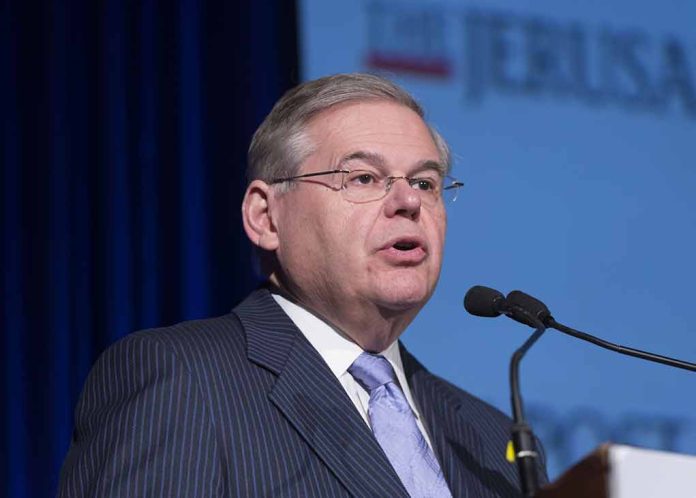 (RightWing.org) – Senator Bob Menendez (D-NJ), his wife, Nadine (nee Arslanian), and three businessmen from his home state were named as defendants in an indictment unsealed by the United States Attorney's Office for the Southern District of New York on September 21. They all pleaded not guilty to the charges brought against them during a court appearance before Magistrate Judge Ona Wang and were released on various monetary levels of bond and ordered to surrender their personal passports and travel documents (though the senator was allowed to keep his official US government passport).
Charges Levied
According to the indictment, all five are facing charges of Conspiracy to Commit Bribery and Conspiracy to Commit Honest Services Fraud, while the senator and his wife face an additional count of Conspiracy to Commit Extortion under Color of Official Right. The press release that announced the charges says that in the span of 2018-2022, the Washington power couple traded on their name and influence in exchange for bribes that included:
Gold
Cash
Payment toward Mrs. Menendez's home mortgage
Those are just a few of the items mentioned that they received in exchange for the senator using his position as chairman of the Senate Foreign Relations Committee — considered one of the most powerful on Capitol Hill — to allegedly help the three businessmen (who are codefendants) and the government of Egypt.
The indictment makes the claim that Senator Menendez sent a text to his wife, who then forwarded it to one of the codefendants who then sent it to unnamed Egyptian Official-1 and -2, promising to approve a $99 million sale to their country of "46,000 120MM Target Practice Rounds and 10,000 Rounds Tank Ammunition."
Another allegation made against the senator is another series of passed-along texts that he began indicating that he "had to sign off" on $2.5 billion of military sales to Egypt. In addition, the court documents purport that the DC politician used his influence to intercede in a criminal investigation by the state of New Jersey for an associate of one of the codefendants in exchange for a "new Mercedes-Benz C-300 convertible worth more than $60,000."
One might excuse Senator Menendez if he is feeling a bit of déjà vu over this whole situation, after all, this isn't his first go around in this position. In 2015, the same US Attorney's Office announced that they had indicted him on 14 counts related to bribery and influence peddling, but, the jury deadlocked, resulting in a mistrial that the federal prosecutor never refiled.
Copyright 2023, RightWing.org