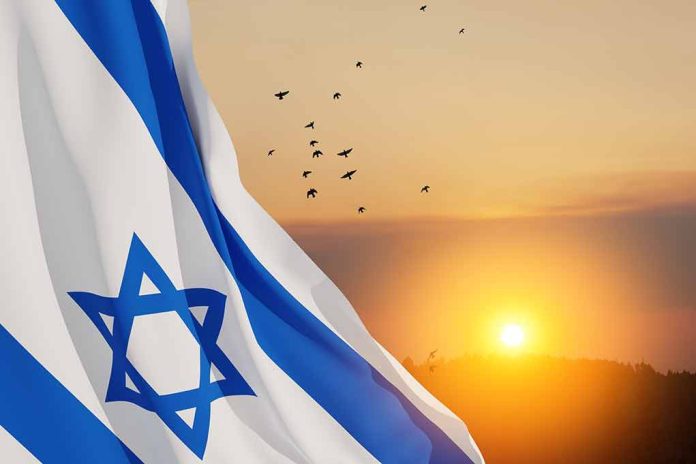 (RightWing.org) – Since Representative Kevin McCarthy (R-CA) had the chair of the Speaker of the House of Representatives pulled out from under him on October 3, Congress had been in a holding pattern because of the vacancy. Representative Jim Jordan (R-OH) was the only other candidate to make it to a floor vote, but after three attempts, with more Republicans turning against him on each vote, he eventually dropped his bid. After weeks of apparent chasms within the party, they finally came together and unanimously filled the spot. Now the new Speaker is tackling his first challenge — Israel.
The New Speaker Is…
The new Speaker of the House is Representative Mike Johnson (R-LA) and the pledge that he made in his acceptance speech has been kept. The Evangelical Christian said the first thing to the floor would be "in support of our dear friend Israel," which would also condemn the savagery shown by the Iranian-backed terrorist group Hamas after they launched a surprise attack on October 7.
Johnson kept that promise when the chamber overwhelmingly voted (412-10) to approve House Resolution 771, which is titled "[s]tanding with Israel as it defends itself against the barbaric war launched by Hamas and other terrorists." The measure specifically called out the Islamic Republic of Iran and another of their proxy militants, Hezbollah, which has attacked the Jewish state from their bases in Lebanon. They also committed to standing with Israel for "emergency resupply and other security, diplomatic, and intelligence support."
While there was very little dissent over the resolution, there were several "nays" cast along with a smattering of abstentions from those who voted "present" and others who simply said, "no vote." Among those outright opposing the measure were members of "The Squad:"
Alexandria Ocasio-Cortez a.k.a. AOC (D-NY).
Ilhan Omar (D-MN).
Rashida Tlaib (D-MI).
Cori Bush (D-MO).
Meanwhile, Representatives Pramila Jaypal (D-WA) and Ayanna Pressley (D-MA) decided they would take what could be seen as a more cowardly approach than their sister Progressives and simply acknowledge they were present. The latter issued a press release saying that she had "voted present today because I could not in good conscience support" the resolution since it does not account for "the overwhelming loss of Palestinian life."
The newly-minted speaker sat down for an exclusive interview on Fox News' "Hannity" and spoke of a support measure for Israel totaling around $14.5 billion, which exceeds Jerusalem's ask of $10 billion (a 45% increase). He did warn, however, that considering America's $33.6 trillion debt, the country cannot afford to be simply "dropping money out of helicopters."
Johnson's position is that any money sent to Israel (and by extension, presumably Ukraine) would have to be tied to what he described as "pay-fors" from future budgets. While President Joe Biden's plan is to package $106 billion in aid to Israel and Ukraine, the new speaker opposes that idea and indeed has concerns about future funding for the eastern European nation at all.
Copyright 2023, RightWing.org