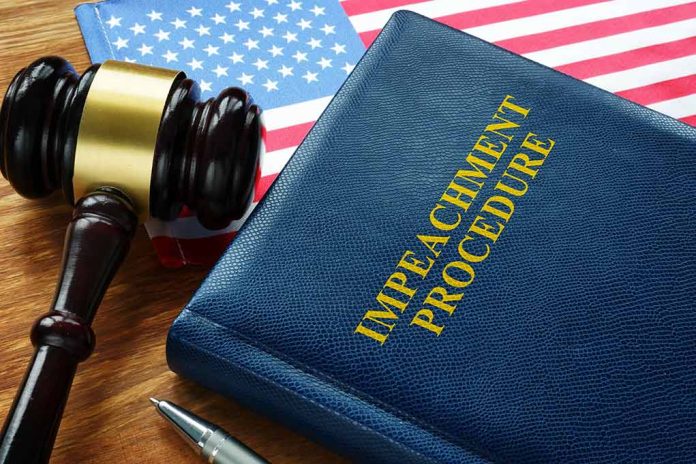 (RightWing.org) – The Republican campaign to impeach President Joe Biden continues to firm up, but it looks like the president has a few months left before any active moves are made against him. A leading figure in the probe has announced that a decision on whether to impeach will be made "early next year." The decision will likely be to move ahead, though, because many Republicans believe there's already enough evidence to justify it.
On November 12, Representative Jim Jordan (R-OH), the chair of the House Judiciary Committee, told Fox News's "Sunday Morning Futures" that the panel working on the impeachment case against Biden "will get the depositions and the interviews done in this calendar year," and said it's likely they'll decide "early next year" whether the evidence justifies formally launching the impeachment process.
According to Jordan, the inquiry still needs some more work — and plenty of work is getting done. House Oversight Committee Chair James Comer (R-LA) has just issued a new batch of subpoenas, including to the president's son and brother — plus one for Hunter Biden's art dealer — so it's likely they'll have a lot more material to look through.
Comer already seems to have made his mind up. He's also appeared on "Sunday Morning Futures" recently, and he said he believes Biden should be impeached. He told host Maria Bartiromo that the inquiry now has access to bank statements that let them trace money as it moved around the complex web of businesses linked to the Biden family — movements Comer has condemned as "money laundering."
He's described the First Family's business dealings as "a very organized criminal enterprise" and is particularly focused on loans between the president and his brother. If Comer has all the evidence he claims to have — and it's hard to see why he'd make it up — it would be a surprise if the panel decides not to go ahead with an impeachment.
Copyright 2023, RightWing.org