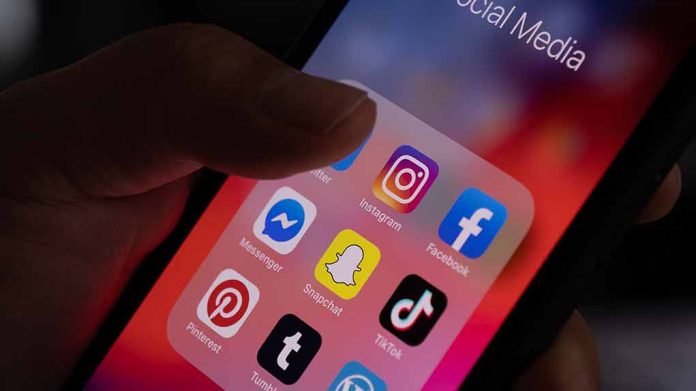 (RightWing.org) – The Republican National Committee held its second presidential debate of the 2024 campaign cycle at California's Ronald Reagan Presidential Library on September 27. Businessman Vivek Ramaswamy took a beating from the other presidential hopefuls in a repeat of the first match-up. However, this time, a Fox News moderator also hammered him in a stunning display of hypocrisy regarding TikTok.
Ramaswamy gave a lengthy response to a question about his plan to stop fentanyl from crossing the country's southern border. He concluded his reply by stressing the need to address that ongoing problem to protect "Americans and our children." Haley took a shot at him, telling him to "stop encouraging TikTok then," a reference to the social media platform's popularity with youngsters.
A few minutes later, it was Fox News and Fox Business host Stuart Varney's turn to jump on the bandwagon and take a potshot at Ramaswamy. He asked the entrepreneur why he joined TikTok even though federal officials banned using the Big Tech company's video-sharing platform on any government-issued device due to its known ties to the Chinese leadership.
Varney also indirectly questioned the hypocrisy of Ramaswamy's earlier rant about protecting Big Tech innovation while using a platform that has raised so many alarm bells.
Perhaps that was a legitimate question, maybe not. But here's the thing: Fox News took money from TikTok in exchange for paid ads that ran — hold your breath — during the debate. As one X/Twitter user pointed out, the first ad that appeared during the match was for the company.
Does anyone want to tell Fox their first ad during the debate was from TikTok? lol

— Saagar Enjeti (@esaagar) September 28, 2023
The author of that post and co-host of the "Breaking Points" podcast, Saagar Enjeti, astutely followed up with a second post a few minutes later. "Another TikTok ad from Fox News," he wrote before going in for the kill, observing that Fox News somehow decided to "question Vivek on whether he's a hypocrite" for using that platform.
Whether or not Varney's barb or a later brawl between Ramaswamy and Haley over TikTok hurt his campaign remains unclear. At the end of the day, most polls show he remains in fourth place behind former President Donald Trump, Florida Governor Ron DeSantis, and Haley.
Copyright 2023, RightWing.org