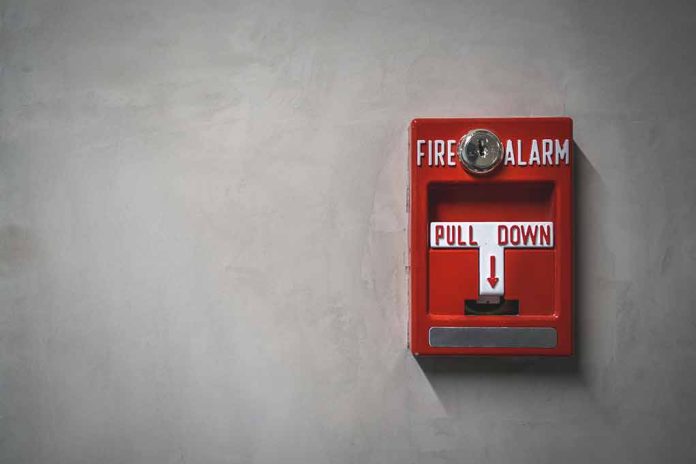 (RightWing.org) – Sometimes, we human beings make mistakes; it's inevitable. Other times, people get caught (fire alarm) red-handed doing something they ought not to do and try to pass it off as just a simple error. Congressman Jamaal Bowman (D-NY) tried to do just that, but oops, there was a pesky little security camera installed near the doors on the second floor of the Cannon House Office Building that seems to give the lie to his story.
Did I Do That?
As worldwide media sources have been reporting for weeks, if Congress could not put together some kind of funding bill by the stroke of midnight on October 1, the United States government would enter a "shutdown" phase. At the same time that Speaker of the House Kevin McCarthy (R-CA) was trying to get a stop-gap 45-day funding measure through, a full emergency crew of first responders had to rush over in order to evacuate the building located just a few steps away from the Capitol building itself.
Bowman's original response was to say that he was rushing to make the vote on the funding resolution, and he was trying to get through the door in question, stating that he "thought the alarm would open the door." Later, the Congressman's chief of staff, Sarah Iddrissu, parroted her boss's excuse and added that he "regrets any confusion" on a post to her X (formerly Twitter) account.
Congressman Bowman did not realize he would trigger a building alarm as he was rushing to make an urgent vote. The Congressman regrets any confusion.

— Sarah (@SarahIddrissu) September 30, 2023
On the Sunday morning talk show circuit, Congresswoman Alexandria Ocasio-Cortez (D-NY) defended her Squad-mate on CNN's "State of the Union" by saying it was "a member [of Congress] who, in a moment of panic, was trying to escape a vestibule." She then fell back on the tried-and-true method colloquially known as whataboutism, trying to mock the Republican response to Bowman's action by pointing to embattled Congressman George Santos (R-NY) and the criminal allegations against him. Even the show's Liberal host, Jack Trapper, seemed like he may be having trouble buying into her reasoning.
In an exclusive story by Breitbart News, they cited multiple unnamed sources who are insiders to the Capitol Police investigation into the Bowman's conduct, and what they had to say, believe it or not, paints an even grimmer picture of the Congressman's conduct. The story first shows images of what AOC's "vestibule" should look like, with a freestanding sign and two others attached to the doors themselves very explicitly proclaiming it as an "emergency exit only."
In a still shot of Bowman released by the Capitol Police, the signs that were affixed above the crash bars of the exit were no longer there, which one of their sources said had been ripped off and thrown to the ground, allegedly by the Socialist Democrat himself. They further claim that the New Yorker "turned around and ran — going down to the first floor of Cannon" and then skulking his way out of an exit on the lower floor.
https://x.com/JakeSherman/status/170819154575138016
Another reason that Republicans are having a hard time believing Bowman's excuse of an honest mistake is the position he once held as the founding principal of Cornerstone Academy for Social Action in the Bronx, New York, where he would have been responsible for running fire drills for his students. Congressman Marc Molinaro (R-NY) was a bit more blunt when he said, "Even my 4-year-old [sic] knows not to pull the fire alarm."