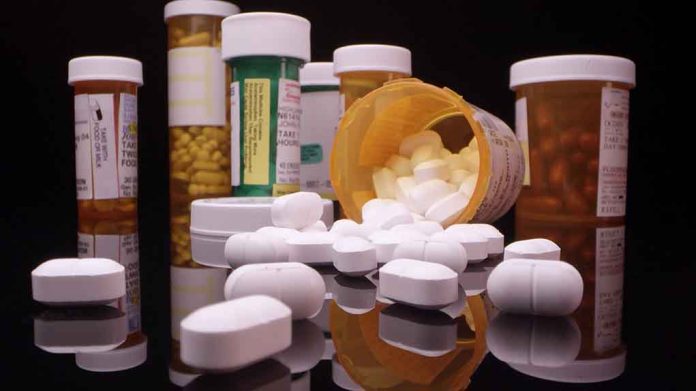 (RightWing.org) – Pharmaceutical companies have employed every method in the book, from suppressing new treatments to inflating research and development costs to sponsoring diseases and promoting them to consumers to boost their profits. Who can forget the controversy surrounding Martin Shkreli and his eventual imprisonment for his decision to inflate the price of the antiparasitic drug daraprim by more than 5,400%?
With their focus on the almighty dollar, the big pharma companies may not be thrilled with the repurposing of cheap and effective antiparasitic benzimidazole drugs like fenbendazole for other ailments — namely cancer.
Big Pharmaceutical Companies React to Fenbendazole Repurposing Efforts
On October 3, Dr. William Makis, MD, posted a report on his substack account discussing, in part, the pharmaceutical industry's concerns regarding a dozen "anti-cancer mechanisms of action," including fenbendazole.
The Fellow of the Royal College of Physicians of Canada didn't directly address pharmaceutical companies' concerns or fears related to the drug's potential use as a treatment for cancer. However, he discussed the fact the medication is cheap, safe, and highly effective.
Makis theorized that production of the drug wouldn't "make anyone rich," meaning it would be a non-starter in cancer treatments. That reality is particularly true for big pharmaceutical companies, considering their long-standing record of placing profits over patients.
Fenben Labs currently sells a month's supply of 222mg fenbendazole capsules for $42.00 a drop in the bucket compared with current pharmaceutical treatments for cancer. The product comes in a tamper prevention wrap seal, and the accompanying Material Safety Data Sheet confirms the drug is "hazard free" due to its "markedly low" toxicity level.
Canadian Doctor Concludes Fenbendazole Is a Potentially Effective Cancer Treatment
Makis explained that those medications are inexpensive, safe, lack US Food and Drug Administration approval, and reportedly kill aggressive forms of cancer. Makis reviewed nine recent research papers to produce his exhaustive report.
After an exhaustive discussion of those studies, Makis concluded that although fenbendazole lacks FDA approval for use on humans (currently, it's an approved veterinary medicine), ample evidence supports its efficacy as an anti-cancer treatment, "both in vitro and in vivo."
Makis explained that it isn't the "controversial medication" that many have "made [it] out to be" in the past. He also pointed out that the drug's closest related pharmaceutical, mebendazole, has formal FDA approval for the treatment of parasitic infections.
Currently, mebendazole is undergoing clinical trials for treating patients suffering from reoccurring pediatric brain tumors or ones resistant to current treatment regimens. Researchers believe the medication could slow the growth of cancerous tumors by interfering with their cell structure and inhibiting the formation of new blood vessels.
Copyright 2023, RightWing.org