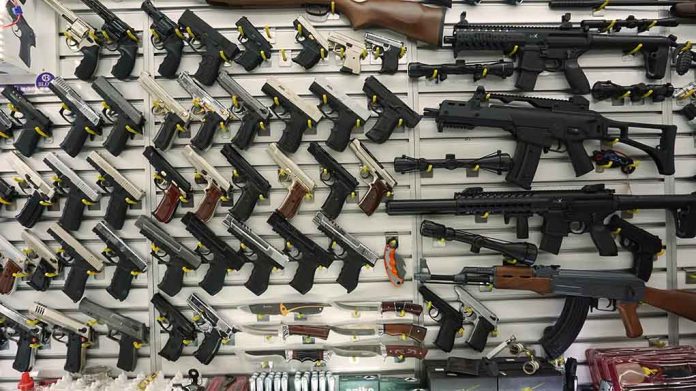 (RightWing.org) – A Texas city council is trying to leverage high food prices as a way to take guns away from its residents. Ahead of Thanksgiving, as many Americans — hit hard by inflation — worry about the cost of the holiday meal, San Antonio is offering grocery vouchers in exchange for guns.
On November 19, San Antonio will hold its first-ever gun buyback program. Residents have been asked to bring unwanted guns to the Alamodome on that day, so they can exchange them for gift cards valid at Texas grocery chain H-E-B's stores. Gift cards aren't tied to the actual value of the weapon; there's a sliding scale of payments based on broad categories. Nonfunctioning or homemade guns can be exchanged for a $50 gift card. There's a $150 payment for rifles or shotguns, $200 for a handgun and $300 for semi-automatic rifles.
Participants are being asked to stow their guns — up to a maximum of 20 — in the trunk or rear of their vehicle, unloaded and with the safety applied, then park at the Alamodome and wait for a police officer to collect the weapons. If a surrendered gun is identified as stolen police will return it to its rightful owner, but the real goal of the program is to take firearms out of circulation.
The buyback program has been pushed by Councilman John Courage, a 71-year-old former USAF police officer who's represented San Antonio's District 9 since 2017. Although the council is non-partisan, Courage is an open Democrat who's faced a lot of criticism from Conservatives for his support of far-left causes.
On the other hand, he's been elected three times in a solidly Republican district, and he denies many of the allegations he faces, such as that he's a Marxist or supports defunding the police — he points out that he voted to increase the police department's budget. He certainly leans left on gun control, though; he's been trying to get the city to run a buyback program since 2017. Now he's succeeded, and he's hoping cash-strapped Americans will prefer a food voucher to a firearm.
Copyright 2023, RightWing.org