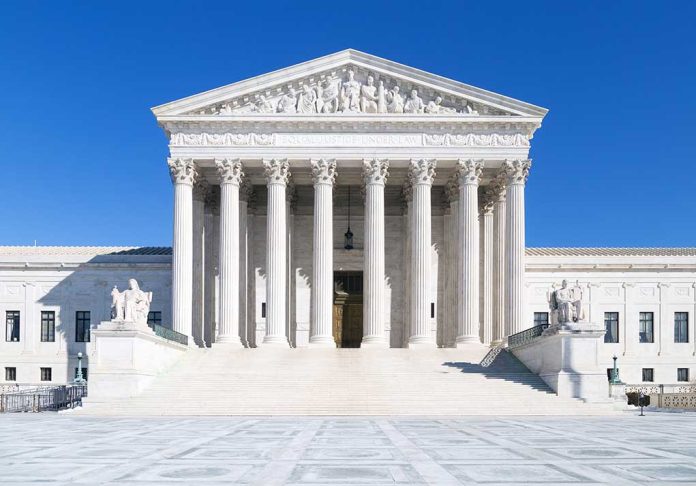 (RightWing.org) – Controversy has surrounded the nation's highest court for months after news reports emerged documenting several US Supreme Court (SCOTUS) Justices' failure to disclose travel gifts and other benefits they received. The alleged infractions prompted demands for criminal action by lefty liberals. Inversely, clear-minded individuals called on the SCOTUS to adopt a set of ethics rules and it recently announced the release of its first-ever code of conduct.
On November 13, SCOTUS released its new nine-page Code of Conduct, a four-page commentary discussing the legal precedent supporting the rules, and a brief statement introducing the new code to the public. All nine justices signed the last page of the new code.
The court's opening statement explained that the principles and rules embodied in the code weren't new. "The Court has long [adhered to] the equivalent of… ethics rules," the panel explained. However, in the "absence" of an official published code, the false assumption that Supreme Court justices are unrestricted by ethics rules has arisen in recent years. Therefore, SCOTUS promulged a new Code of Conduct "to dispel this misunderstanding."
The code is clear and concise and contains five canons or rules.
Justices should uphold the independence and integrity of the federal judiciary.
A justice should avoid the presence or appearance of any impropriety during all judicial activities.
Members of the panel should perform their duties "fairly, impartially, and diligently."
Justices can engage in activities outside their duty as jurists consistent with the obligations of their office.
A justice should refrain from taking part in political activity.
As one might expect, the new conduct code has generated some criticism. For instance, Sen. Sheldon Whitehouse (D-RI) posted a statement on his X/Twitter page questioning the lack of enforcement mechanisms in the new ethics rules.
Additionally, some court watchers and legal experts have questioned the court's use of the "discretionary" word "should" in four cannons. Such language allows judges to decide whether or not to follow rules, procedures, and statutes at their discretion.
Conversely, the Court could have opted to use non-discretionary words like "shall" and "will" to force compliance with the new code of conduct.
Copyright 2023, RightWing.org