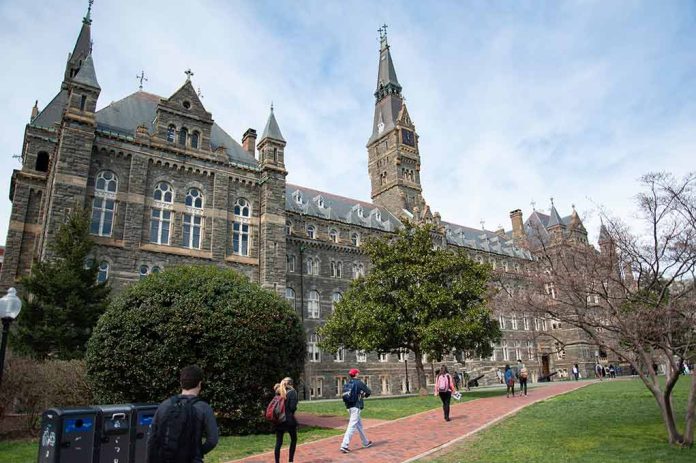 (RightWing.org) – The American Cancer Society helped found the observance of October as Breast Cancer Awareness Month in 1985 to increase awareness of the disease and raise funds for vital research into its origin, prevention, diagnosis, treatment, and eventual cure. The affliction hits close to home for some female athletes as the head coach of the Georgetown University Women's Basketball team recently died at 41 after a two-year struggle with the deadly disease.
On October 23, Georgetown University issued a statement announcing its mourning over the loss of Tasha Butts earlier that day. The head of the school's intercollegiate athletics program, Lee Reed, recounted meeting the nationally recognized player, assistant coach, and first-year head coach. Noting that she had a "passion and determination… second to none," Reed said she exhibited those qualities on the court and in her battle with breast cancer.
Reed expressed his heartache for the many people Butts touched, including her loved ones, colleagues, and teammates. He also said the Georgetown community would unite and honor Butts' memory during this difficult time.
Butts transferred to Georgetown earlier this year after a 17-year career as an assistant coach at several NCAA schools. However, she stepped down to focus on her health challenges in September before she could attend her first game as head coach.
The coach received her advanced-stage metastatic breast cancer diagnosis at Georgia Tech in November 2021. Inspired by her battle, Georgia Tech Athletics recently partnered with the Kay Yow Cancer Fund, a non-profit group dedicated to supporting "innovative ways of fighting" all forms of cancer impacting women.
The university kicked off the project with a $150,000 grant to a noted Georgia hospital providing quality cancer care to underserved women in the greater Atlanta metro area. Supporters of the effort dubbed it the "Tasha Tough" campaign.
Lady Vols are #TashaTough!

Sending our love to LVFL @TashaButtsHoyas 🧡 pic.twitter.com/Z1HjzQbGYg

— Lady Vols Basketball (@LadyVol_Hoops) October 17, 2023
Women's basketball teams nationwide posted videos on their social media pages every Tuesday showing their support for Butts. For instance, the eight-time national champions Lady Vols Basketball posted a video on their X/Twitter account on October 17. The clip showed team members praising her as a "competitor" and "fighter" and expressing their love for Butts.
Copyright 2023, RightWing.org