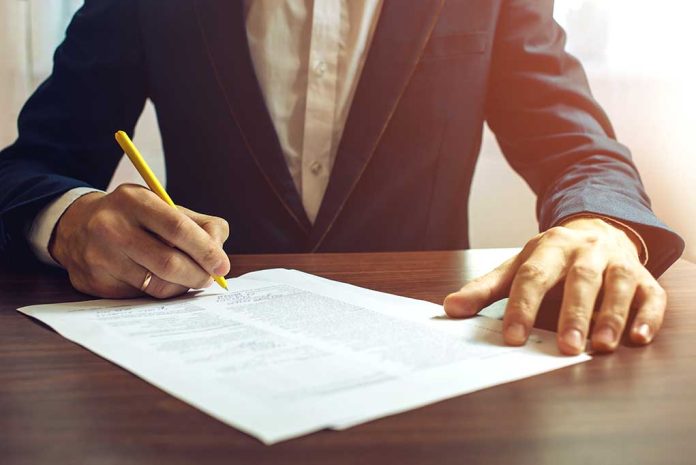 RightWing.org) – The United States has offered unwavering support to Israel since former President Harry S. Truman became the first world leader to formally recognize the creation of the Jewish State in May 1948. Over the decades, the Israelis have proven to be America's most significant strategic ally in the region. However, times have changed, and President Joe Biden finds himself at the center of controversy over his approach to the Israel-Hamas War.
On November 14, The New York Times broke the news that more than 500 staff members and political appointees representing dozens of executive branch agencies had signed a letter to Biden protesting his steadfast support of Israel. The letter, which contained 402 signatures when it was sent to the president, had an additional 100+ officials sign onto it within hours. Organizers promised to give the White House daily updates on the number of signatories.
The correspondence begins with a denouncement of the unprovoked attack on Israel by Hamas the first week of October. Continuing, the signatories urge Biden to take action to prevent further bloodshed caused by the Israeli Defense Forces' retaliatory strikes inside Gaza. They call on the White House to demand an immediate cease-fire in the Gaza Stripe to allow humanitarian aid and other relief efforts to cross into the Hamas-held territory.
Likewise, they stress the need for Biden to push for a de-escalation of the conflict by securing the release of hostages taken by Hamas and Palestinians "arbitrarily detained" by officials on both sides of the military action. Additionally, they call for the immediate restoration of electricity, fuel, water, food, and other essential services.
It remains unclear whether Biden or other administration officials will act on the letter's calls for action. Since the Israel-Hamas War began, several protest letters have circulated throughout various executive branch agencies and departments, including an open letter signed by hundreds of employees with the US Agency for International Development. Likewise, dozens of State Department workers have sent three memorandums to Secretary Antony Blinken.
Copyright 2023, RightWing.org