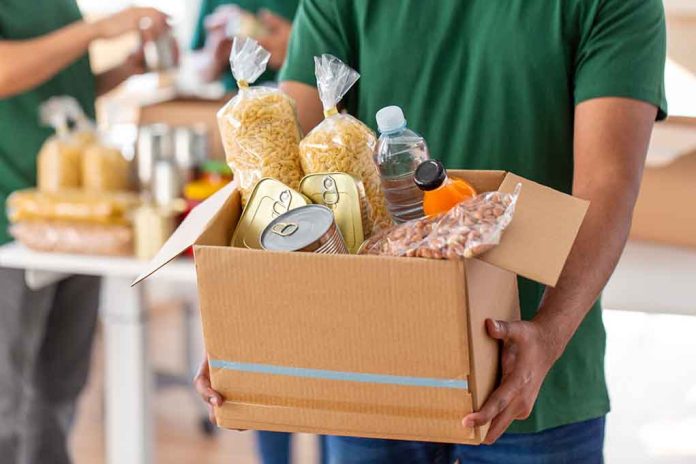 Need Help With Food Costs? 5 Programs You Should Consider
(RightWing.org) – If you're struggling to feed your family, there are food assistance programs that can help you. They provide food to families and individuals in need, and by using one or more of them, you can ensure your family has enough healthy food to eat.
Supplemental Nutrition Assistance Program (SNAP)
More commonly known as "food stamps," SNAP helps households in need get nutritious food. The goal of the program is self-sufficiency: by helping out now, the program hopes they can eventually support themselves. To get help from SNAP, you need to apply locally via the state you live in. You will then be assigned a caseworker who can guide you through the process.
SNAP recipients get an Electronic Benefits Transfer, or EBT, card through which they receive benefits. It functions just like a debit card, but it can only be used on select food items at grocery stores, convenience stores, and online ordering. EBT cards cannot be used to purchase other needed items, nor does it cover all groceries indiscriminately.
Women, Infants, and Children (WIC)
WIC benefits are intended to support mothers and their babies and young children. This includes those who are pregnant. This 40 year old program is designed for short-term use and provides support for nutrition counseling, food assistance, and other services young parents need, like breastfeeding support.
WIC is available to parents who are married or single, whether or not they work, and it's not limited to women. Grandfamilies in need may also qualify.
Like SNAP, WIC is distributed via the state and based on need. You will need to apply locally in order to qualify. The benefits are not permanent, but only last a short time.
Child Nutrition Programs
Child Nutrition Programs include a variety of smaller programs, all aimed at addressing child hunger.
Administered overall by the U.S. Department of Agriculture, Child Nutrition Programs Includes the School Breakfast Program and National School Lunch Program as well as the Child and Adult Care Food Program, or CACFP. School food programs enable children to get cost-free food at school for breakfast and lunch.
Food Distribution Programs
The USDA and other federal organizations have earmarked parts of their budgets towards food assistance programs.
One such program under the food distribution umbrella is the Commodity Supplemental Food Program, or CSFP. This program supports low-income elderly, infants, children, new mothers, and pregnant people with USDA-supplied foods.
Another such program is the Department of Defense's Fresh Fruit And Vegetable Program, which gets healthy food to schools. The Food Aid Program feeds people through direct donations.
The Emergency Food Assistance Program is a USDA program that helps supplement the diets of low-income Americans by providing them with emergency food assistance at no cost. That food is made available via state distributing agencies.
The amount of food each state receives is based on the number of unemployed people and the number of people with incomes below the poverty level in the state. States provide the food to selected local agencies, usually food banks, and they in turn distribute the food to local organizations, like soup kitchens and food pantries, that directly serve the public.
The goal of all these programs is to get food to your table. There are many to sort through, but if you or your family are in need, it is worth it to sort through which programs can get you the support you need. You can utilize more than one program at a time, including alongside SNAP benefits.
Center for Nutrition Policy and Promotion (CNPP)
In school, most of us learned about the food pyramid. The guidelines change over time as we learn more about our nutritional needs. Those changes are due to the Center for Nutrition Policy and Promotion, or CNPP, working within the Food and Nutrition Service, or FNS.
Nutritionists working a these organization reevaluate food and nutrition guidelines to help guide support to families in need and better direct them to programs that will fill their nutritional needs.
Families looking at food supply issues should check out these organizations online to ensure they are meeting their family members' nutritional needs.
In addition, many local nonprofits and even some local religious organizations offer food assistance. Reach out to your local community organizations for support! Even religious organizations will offer support, even if you are not a member of their congregation, in order to benefit the community as a whole.
Copyright 2023, RightWing.org