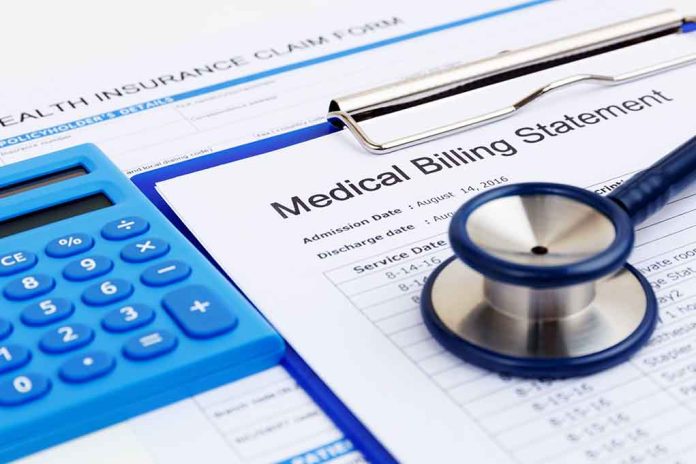 The No Surprises Act: Everything You need To Know
(RightWing.org) – The last thing you want to see after a significant medical event is a bill you had no control over. This is a reality for many Americans: emergency surgery involving an out-of-network anesthesiologist, an ambulance ride from an out-of-network provider, and many other hospital-related services, usually called "emergency and emergency services." After all, insurance companies don't seem to care that it's an emergency or that you weren't aware that you used an out-of-network provider. You'll have to pay a fee… even if you don't know it. Worse, you may not have been awake and aware of deciding.
Many are tempted to do everything they can to pay off high medical bills as soon as they have them, but don't do that without looking into it, and don't get discouraged by the high costs.
What Is the No Surprises Act?
Beginning in January 2022, the No Surprises Act ensures that insured Americans cannot be charged out-of-network provider rates in an emergency. Consumers like you were concerned because anesthesia and other commonly performed emergency services were charged much more than in-network providers. In some cases, patients were transferred to out-of-network hospitals or entirely out-of-network health facilities, resulting in higher charges for each specialist consulted and for their entire medical event and hospital stay.
It's as if your insurance companies expect you or anyone who needs to call 911 in an emergency to check if the hospital you're going to is covered to call the insurance company and ask for every doctor. Some insurance companies charged these high rates because the services needed to be pre-authorized. In non-emergency situations, images such as MRIs or CTs may go through the insurance company's approval process, which is not the case with an emergency hospital stay. That is not realistic.
Ground Transport (Local Ambulance Services)
Ground transport, usually ambulances, is a gray area. Instead of hospital systems (of which there is a limited number), insurers must contend with thousands of private ambulance services across the country, each with very different billing and fee structures. As you can imagine, this usually means a hefty bill for the patient.
Once your insurance company has paid what they think is their fair share of the bill, you will be billed for the balance. This is called balance billing. Many patients have had to go through multiple appeals processes to take advantage of the no-surprise law when billing ground transportation against hospital services that have become more automated in terms of compliance. Work with your recovery provider – they want to get paid and need help with the language you need to provide to your insurance company to ensure you don't end up with an illegal balance bill.
How to Dispute a Bill Under the No Compliance Act
Insurance companies are in business to make a profit – never forget that. Therefore, it is in your best interest to avoid paying until you follow up on the act. Your original dispute must be submitted in writing to the insurance company. Then you may have to go through a round or two of appeals (or reviews) with the insurance company, where they either agree to pay most of your bill or refuse outright.
If they refuse, it's time to take your case directly to your local congressman (look for someone who supports healthcare systems and policies that benefit citizens rather than corporations). Their job is to advocate on your behalf or connect you with a legal aid representative to do this illegal billing.
While it's no surprise that the law has been in place for some time, private insurers sometimes need to follow it. Investigate each account carefully, get an attorney to help you if possible, and fight all charges. Also, share this post and let your friends and family know that you're checking their medical bills to ensure they're legit without surprises; you can save them thousands of dollars.
Copyright 2022, RightWing.org