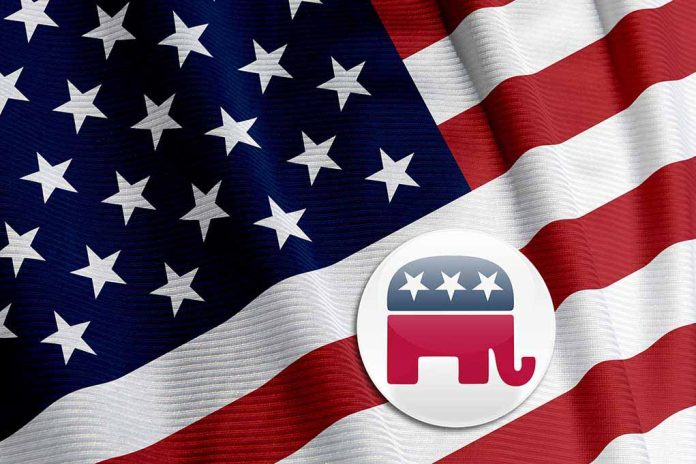 (RightWing.org) – Rep. George Santos (R-NY) faced mounting controversy after revelations emerged that he lied about several aspects of his background and experience during his successful 2022 campaign. Since then, federal prosecutors issued a 13-count criminal indictment against him in early May and a superseding 23-count indictment charging document on October 10. Somehow, he's avoided Democratic-led efforts to remove him from the House. However, that might change now that five House Republicans have decided to move to expel him.
Republican Lawmakers Move to Expel Representative George Santos
On October 11, Rep. Anthony D'Esposito (R-NY) issued a press release announcing his decision to introduce a resolution to expel Santos from Congress. Four of his fellow New York lawmakers signed on to the measure as original co-sponsors, including freshman Republican Representatives Marc Molinaro, Mick LaLota, Brandon Williams, and Mike Lawler.
The press release included statements from D'Esposito and three of the resolution's co-sponsors.
D'Esposito explained that Santos' "ever-expanding" legal problems and numerous "deceptions" strengthened his resolve to expel him from the House. He also posted a brief statement on his X/Twitter page calling Santos a "fraudster."
Molinaro called Santos a "fraud" and a "liar" facing a "growing rap sheet." He also noted that he had previously called on the indicted lawmaker to resign. "Since he won't, I'm supporting [the] resolution to expel him," Molinaro explained.
LaLota echoed that sentiment, adding that "Santos belongs in a federal prison [and] not in the halls of Congress." Like Molinaro, he said he previously called on Santos to resign but conceded that expulsion was the "next necessary step."
Williams noted that he predicted that Santos would eventually end up "in front of a judge in handcuffs" during an interview with CNN host Anderson Cooper. "Goodbye, George," he concluded.
George Santos' Congressional Future Appears Uncertain
It remains unclear whether the Republican effort to expel Santos from Congress might succeed. It appears to have already taken a turn for the worse for them. D'Esposito announced his decision to introduce legislation to remove Santos from the House on his X/Twitter page shortly before he issued his press release.
Today, I'll be introducing an expulsion resolution to rid the People's House of fraudster, George Santos. The resolution will be co-sponsored by fellow #NewYork freshman @RepLaLota @RepMikeLawler @RepMolinaroNY19 @RepLangworthy @RepWilliams.

Our statement will follow. 🇺🇸

— Rep. Anthony D'Esposito (@RepDesposito) October 11, 2023
He named Republican Rep. Nick Langworthy, another New Yorker, as a co-sponsor of the bill. However, his name was conspicuously missing from the press release announcing he introduced the measure. A review of the congressman's social media accounts and website didn't mention Santos or the GOP lawmakers' resolution.
Additionally, members of the Republican House leadership appear hesitant to take any action against Santos. As it stands, they can only afford to lose five votes on any outstanding measure to Democrats and don't appear willing to drop that figure to four.
For example, in May, Republican lawmakers voted along party lines to refer a Democratic-led resolution to expel Santos to the House Ethics Committee in an apparent effort to stall the measure. Despite a July call for the panel to extend the matter or release a record of its investigative findings, nothing has happened since.
Copyright 2023, RightWing.org