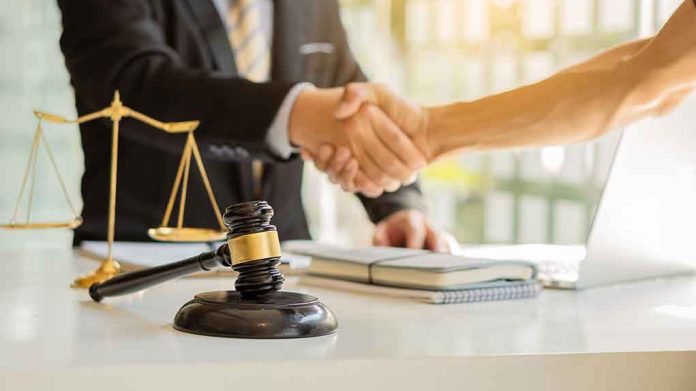 (RightWing.org) – President Donald Trump has been assailed on all sides by liberal prosecutors on everything from his net worth to the Democrat-led witchhunt into what the Leftists continue to portray as an "insurrection" from the riots on Capitol Hill of January 6, 2021. One of the indictments, obtained by Fulton County, Georgia District Attorney Fani Willis, originally charged him and 18 others, but now two Trump-adjacent lawyers have been granted extremely lenient plea deals in comparison to the penalties they could have faced if convicted.
Get Out Of Jail Free Card
Sidney Powell was caught up in the dragnet cast by Willis to pull in as many people as possible who had any kind of association to help bring Trump's claim of election interference in the 2020 presidential race. As part of her zeal, she filed lawsuits in Michigan, Arizona, and Georgia seeking to have the results overturned because of potential fraud, especially around the use of electronic voting machines.
Instead of facing an impending trial for her part in the 41-count indictment, full of alleged felonies and violations of Georgia's Racketeer Influenced and Corrupt Organizations Act (RICO) laws, Powell was allowed to plead guilty to six misdemeanors. On October 19, Superior Court of Fulton County Judge Scott McAfee agreed to the terms of the deal reached with prosecutors, which include:
Writing an apology letter
Serving six years probation
Paying a $6000 fine and $2700 in restitution to the state
Testifying truthfully at any co-defendant's trial, if called as a witness
Prosecutors agreed to insert verbiage stating that these crimes are not offenses of "moral turpitude." Generally speaking, that sort of offense is a bar to professional licensing in most states, meaning she should be able to continue practicing law.
The following day, Kenneth Chesebro, another attorney for the Trump campaign organization also pled guilty to get himself out from under the weight of the felony charges he was facing. Instead, he copped to a single charge related to setting up slates of electors, whose votes for Trump could be sent to Washington, if the elections were overturned, for that he will need to:
Write an apology letter
Serve three to five years probation
Pay a $1000 fine and $5000 in restitution to the state
Chesebro also promised to be a witness against any of the other co-defendants if their cases go to trial. The liberal-biased media outlets are having a field day speculating on the negative impact any testimony of the two attorneys could have against Trump, and his ability to win the presidency again in 2024. Only time will tell.
Copyright 2023, RightWing.org