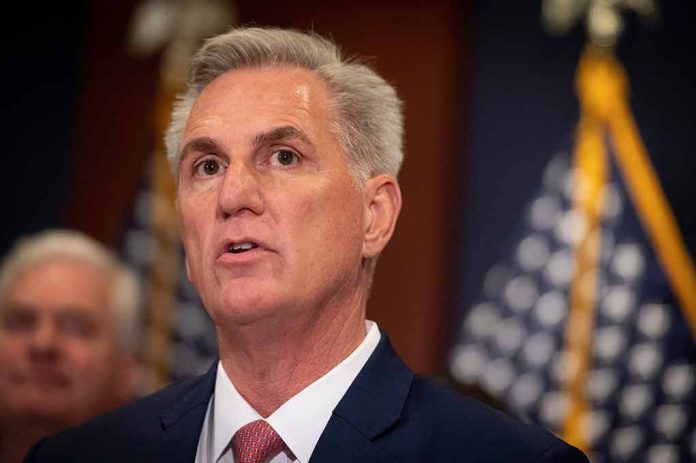 (RightWing.org) – On October 3, Rep. Kevin McCarthy (R-CA) became the first congressman to earn the monicker "former speaker of the House" by being removed from office. The nation's lower chamber ousted him by a margin of 216 to 210, with eight Republicans siding with all the Democrats present to vacate his position. McCarthy announced his decision not to compete for the job shortly after that historic vote. A new report now indicates that he won't even commit to another run to represent California's 20th Congressional District.
Kevin McCarthy Not Ready to Commit to 2024 Run
On November 12, CNN aired an interview with McCarthy conducted by host Manu Raju. The former speaker said he hadn't made up his mind regarding a possible run in 2024 for another term as a US representative. He explained that he would use the upcoming holiday season to speak with his family about their thoughts about the immediate future. "Then, I will make a decision," McCarthy said.
McCarthy paused as if lost in thought and appeared to consider the prospect of another term in office out loud. He told Raju that he still believed in "the process," the mechanisms that keep Congress operational. He also said there were various ways he could approach "getting the job done," an apparent reference to promoting his particular brand of conservative politics. McCarthy said he would consider "all the options" once he explored his possibilities.
Raju followed up by asking McCarthy if he was leaning towards seeking another term. "I don't know," McCarthy blunted responded.
The California lawmaker spent the bulk of the remainder of the interview airing his grievances against other Republicans.
Aggrieved, McCarthy Slams His Republican Opponents
McCarthy didn't mince any words when it came to expressing his opinion about the ultra-conservative Republicans who spearheaded the push to take the speaker's gavel from him. He referred to them as the "Crazy Eight" and questioned whether they were real conservatives.
However, McCarthy focused most of his apparent ire on Rep. Matt Gaetz (R-FL). He accused the conservative firebrand of forcing him out of the speakership as a means of ending a long-standing ethics investigation into allegations surrounding underage girls and other questionable actions.
McCarthy also accused Gaetz of having the capacity to "throw his country away" as part of an effort to "protect himself" from what would eventually emerge as "the truth" regarding his conduct. He also predicted that the Florida lawmaker's work to undermine his speakership would succeed if it prevented the House Ethics Committee from dropping the hammer on him — giving Gaetz "what rightfully should come to him."
Whatever happens to McCarthy's political career, the CNN interview clarified one thing. The former speaker's support for Donald Trump hasn't waned in recent weeks. If anything, it appears stronger now that he isn't burdened by the duties of his former position in the House.
Copyright 2023, RightWing.org