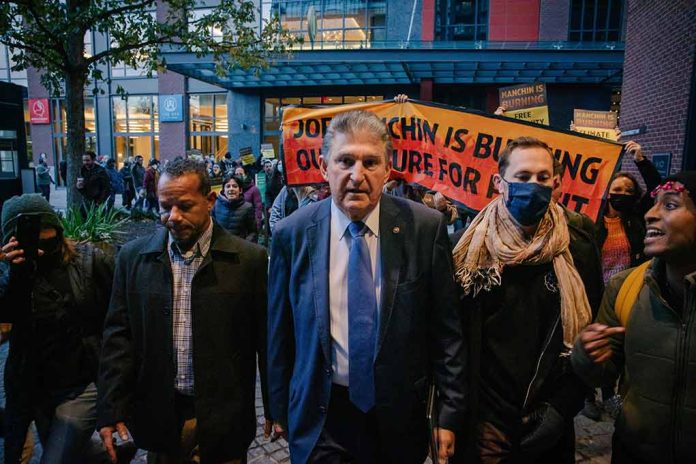 (RightWing.org) – Sen. Joe Manchin (D-WV) has been a thorn in the side of Democrats for years. He's repeatedly derailed their efforts to push back against the nation's continued reliance on fossil fuels. He also forced the Biden administration to compromise with Republican lawmakers on funding issues, narrowing their ability to finance their socialist programs. He recently ended months of debate regarding his intentions for 2024, and things don't look particularly good for the Democratic Party.
On November 9, Manchin announced his decision not to seek another term. Noting the "growing divide" between Republican and Democratic lawmakers and their inability to resolve the nation's problems, he said he would spend his time traveling the country to gauge American's interest in the creation of a "movement to mobilize the middle" and restore unity.
To the West Virginians who have put their trust in me and fought side by side to make our state better – it has been an honor of my life to serve you. Thank you. My statement on my political future: pic.twitter.com/dz8JuXAyTL

— Senator Joe Manchin (@Sen_JoeManchin) November 9, 2023
If that concept sounds vaguely familiar, there's probably a good reason it triggered your memory. There's been speculation regarding the possible establishment of a so-called "unity" team, an alternative bid for the White House should 2024 turn into a rematch between former President Donald Trump and the incumbent, President Joe Biden. There's talk behind closed doors that Manchin might join that effort.
Understandably, Democrats have pushed back on the idea. Considering the president's sagging approval figures with American voters, the possibility of a unified candidate entering the race could destroy his reelection hopes.
Robert Kennedy Jr's entry into the race and recent decision to run as an independent candidate is already siphoning prospective votes from Biden. Having a so-called "unity" candidate on the ballot could seal the president's fate, handing a victory to Trump.
There are other alarming considerations for Democrats surrounding Manchin's pending departure from the Senate. For instance, The New York Times recently reported that the West Virginia senator's decision to leave an empty seat in a "deeply red state" could derail the Democrats' effort to maintain control of the Senate after the 2024 general elections.
Democrats only control 51 votes in the chamber, thanks to three independent Senators who caucus with them. Conventional wisdom among political experts and observers maintains that Manchin is the only Democrat capable of holding his seat.
Copyright 2023, RightWing.org