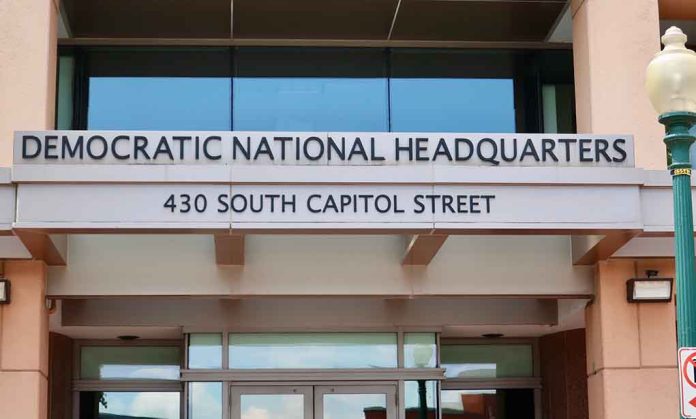 (RightWing.org) – James Woods is an award-winning film and stage actor known for his gritty, fast-talking roles. A former Democrat, Woods left the party in the wake of Bill Clinton's 1999 impeachment trial and later aligned with the Republican Party. He's known as a prolific user of X/Twitter, using the platform to spread his conservative views. A recent post on the site indicated the Golden Globe winner was considering taking legal action against the Democratic National Committee (DNC).
On November 5, PoliticsVideoChannel posted a five-part thread on its X/Twitter account announcing what the posts characterized as the "BREAKING" news that Woods planned to file a lawsuit against the DNC for reportedly ruining his acting career.
BREAKING: James Woods says he's planning to sue DNC for Destroying his acting Career pic.twitter.com/PazxxPc5Xu

— PoliticsVideoChannel (@politvidchannel) November 5, 2023
The five-part thread included three direct quotes from the actor to substantiate its claim.
The first one was the beginning portion of a longer statement Woods made regarding his career, claiming that he wasn't a "celebrity anymore" and "missed his career."
The second one was the remainder of the quote, during which Woods said he was "hardly recognizable anymore" because the DNC destroyed his career.
The third quote included Woods' "guarantee" that he would be "getting a lawyer" and would sue the DNC "no matter what."
Although those quotes are genuine, there's a problem with the thread. As it turns out, Woods made the remarks during an interview with Fox News host Tucker Carlson on December 2, 2022.
The two men discussed accusations that the DNC reached out to X/Twitter to have it remove one of Woods' posts about Hunter Biden. The platform's then-new CEO, Elon Musk, released information regarding the site's previous efforts to throttle conservative voices in a series of disclosures called the "Twitter Files."
Journalist and podcaster Matt Taibbi published the first of those disclosures the same day as Carlson's interview with Woods as controversy surrounding its revelations started erupting.
9. Celebrities and unknowns alike could be removed or reviewed at the behest of a political party: pic.twitter.com/4uzkHnQ65E

— Matt Taibbi (@mtaibbi) December 2, 2022
Woods remains a prolific user of the X/Twitter platform. A review of his account confirms that he's posted several links to articles and reposted statements from other users but hasn't responded to the PoliticsVideoChannel post or its contents as of noon Eastern time on November 6.
Copyright 2023, RightWing.org