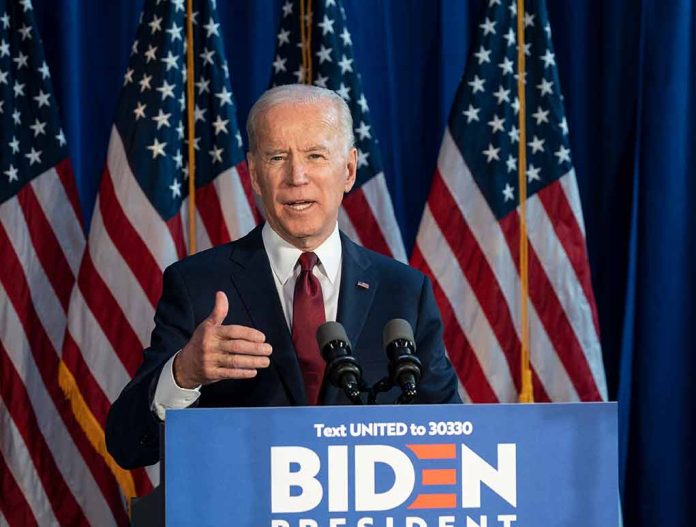 (RightWing.org) – "What happens in Vegas, stays in Vegas" is a concept that does not apply in any way to the nation's capital, Washington D.C. What's being said behind closed doors in the White House and whispered in public has President Joe Biden coming under fire for what can be interpreted as undermining the administration's position that the United States has Israel's back in the war that the Islamic Republic of Iran-backed terrorist group Hamas started on October 7.
Bye-Bye Bibi?
A story first published by POLITICO quoted several unnamed sources familiar with the situation who said that the president and his aides have discussed the idea that Israeli Prime Minister (PM) Benjamin Netanyahu's time in office is quickly coming to a close. One of the people who spoke to the news outlet said that during private conversations at an October meeting between the two world leaders in Tel Aviv, Biden insisted that his counterpart "prioritize a two-state solution [Israel and an unoccupied Palestine] and being mindful… of the challenges of any sort of future occupation of Gaza."
Biden is far from the only Democrat advocating positions favoring the rallying cries of the pro-Palestinian terrorists, and some of them are much more pointed in their demands. Representative Rashida Tlaib (D-MI) posted a video on her X (formerly Twitter) feed showing anti-Israel protests from around the country and the Islamic cry of "from the [Jordan] River to the [Mediterranean] Sea."
https://x.com/RashidaTlaib/status/1720520713226908144
The Anti-Defamation League (ADL) notes that the rest of the phrase typically includes "… Palestine will be free," and because the State of Israel exists within those boundaries, it means their country would no longer exist. Tlaib, for her part, has doubled down on her usage, even in the face of opposition from her own party, including another Michigander Representative Ellisa Slotkin who wrote on her own X feed that it is "counterproductive to promoting peace," and chastised her for using a phrase that only makes the situation worse.
https://x.com/RepSlotkin/status/1721297575318290715
A Potential Wolf in Sheep's Clothing
Democrats in the Senate hammered through the appointment of Jack Lew as America's new Ambassador to Israel, over strong objections of some Republican colleagues. The newest diplomat was Secretary of the Treasury during former President Barack Obama's administration and was a central figure in, and a staunch supporter of, the literal planeloads of at least $1.7 billion of cash in the Iran nuclear deal that was brokered in secret by then-Secretary of State John Kerry and the Iranian-born mentor to both of the Obamas, Valerie Jarrett.
Republican Senators Tom Cotton of Tennessee and Marco Rubio of Florida did not hold back in their condemnation of Lew. The former during a speech delivered from the Senate floor, and the latter during his questioning at the then-nominee's confirmation hearings.
Cotton described Lew as one "who at times seems a better friend to Tehran than Jerusalem," and reminded the world that he supported Obama's refusal to "veto a United Nations Security Council resolution condemning Israel." In his first question, Rubio brought up a litany of facts about how the new ambassador lied and misled the Senate regarding his role in the administration's encouraging of American and foreign banks to bypass sanctions that had been levied against Iran.
Copyright 2023, RightWing.org