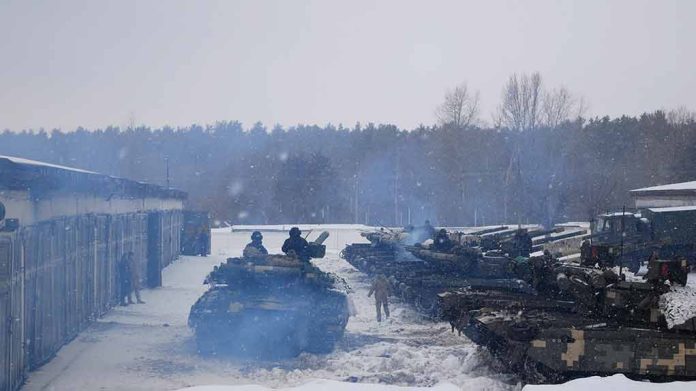 (RightWing.org) – Odds are good that every government ever formed has seen some level of corruption, after all, there are always those who will put their wants and desires ahead of the people they are supposed to lead to a more prosperous future. Ukraine is no exception. POLITICO recently broke the story of what they say is a much longer and bleaker "sensitive but unclassified" leaked version of a public State Department document outlining changes for Ukraine as envisioned by President Joe Biden's administration.
Straighten Up!
The public, and apparently sanitized report titled "Integrated Country Strategy" warned Ukrainian President Volodymyr Zelenskyy that failure to institute anti-corruption and judicial reforms could create a "lack of confidence in Ukrainian democracy and governance" that could have economic and societal repercussions. According to Politico's story, the classified version of the paper seems to hold a veiled threat to continued military support because any missteps would cause Western nations' "confidence in the war-time government" to be undermined
Both versions use similar phrases for what could happen if these new policies are not instituted quickly, but the two outcomes envisioned are starkly different. The former warns of what could happen in a peace-time Ukraine, while the latter could be interpreted to mean that the flow of weapons and money for the country's struggle to fight off Russian President Vladimir Putin's armies would stop. Without foreign assistance, the defenders would most likely lose their battle, leading to the nation no longer being an independent state.
Digital news source Ukrainska Pravda claims that the United States Embassy in Ukraine confirmed to them that they had sent a list of "Reforms Linked to Conditions on U.S. Assistance," and published what they say is a copy of that. Leading off the demands is the requirement that "on or before April 1, 2024," Zelenskyy's government will implement laws regarding possible corruption in the energy sector.
The section headed "0-3 Month Priorities" deals with strengthening the Ukrainian commitment to their anti-corruption investigation, court, and prosecutor divisions, including financial disclosures. The State Department strategy document says this "deoligarchization, particularly of the energy and mining sectors, is a core tenet to building back a better Ukraine."
Biden Is One to Talk
One might be excused for cocking an eyebrow at these demands by the Biden administration considering the smoke that continually arises around the president (during his time as vice president), his son Hunter, and Burisma Holdings (a Ukrainian national gas business). Senator Chuck Grassley (R-IA) and Representative Jim Comer (R-KY) released a partially redacted FBI "CHS (confidential human source) Reporting Document" about discussions that person was part of where the corporation's CEO Mykola Zlochevsky and others were present.
According to the official FBI document, the CHS claims to have been told by Burisma's CFO Vadim Pojarskii that the company hired Hunter Biden to "protect us, through his dad, from all kinds of problems." They also alleged that the company's CEO told him he had been "coerced" into making payments to both Bidens to the tune of $10 million to make sure that "Ukraine Prosecutor General Viktor Shokin was fired." This is the same claim that former President Donald Trump was eviscerated in the Leftist media for allegedly asking Zelenskyy to investigate from his end. The same "reporters" published numerous fact checks, assuring the American public that no such thing ever happened.
Copyright 2023, RightWing.org