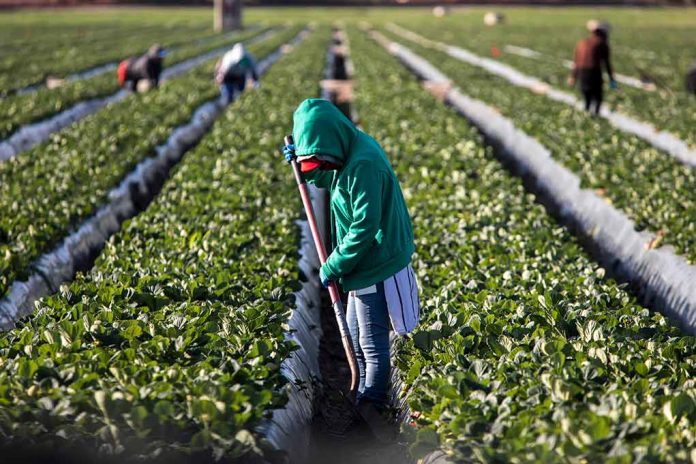 (RightWing.org) – The Biden administration wants to bring in a new rule that gives extra rights to foreign workers on US farms. Our agricultural industry relies on migrant labor to keep producing food, so it makes sense to ensure those workers are protected — but should they have rights American workers don't? That's what President Joe Biden is proposing, but now he's running into opposition.
In September, the Department of Labor proposed a new federal rule to update the H-2A visa program. The H-2A is a non-immigrant visa that lets low-skilled temporary farm workers take jobs in the US. When it began in 1997, around 16,000 visas were given out every year, but that number has ballooned; in 2020 over 213,000 of them were issued, mostly to Mexican nationals, and over 200,000 in the first half of this year. It's a controversial program because it lets employers replace US workers with low-paid seasonal labor.
Now Biden wants to give new rights to H-2A workers, including the right to collective bargaining. The problem is that American farm workers don't have that right. Now 24 state attorneys general, led by Kansas AG Kris Kobach (R), have written to the Labor Department demanding the rule be scrapped. In the letter, the AGs argue that Congress hasn't authorized the department to give temporary laborers the right to unionize. They added that the rule is "not just a violation of the law. It is bad policy." The letter said granting rights to H-2A workers that American workers don't have is "not only absurd, but wrong."
The AGs are calling on the administration to amend the law, stripping out the rights to collective bargaining and to union access on their employer's property. Kobach has accused Biden of prioritizing foreign workers over Americans — and red states are determined to prevent that from happening.
Copyright 2023, RightWing.org